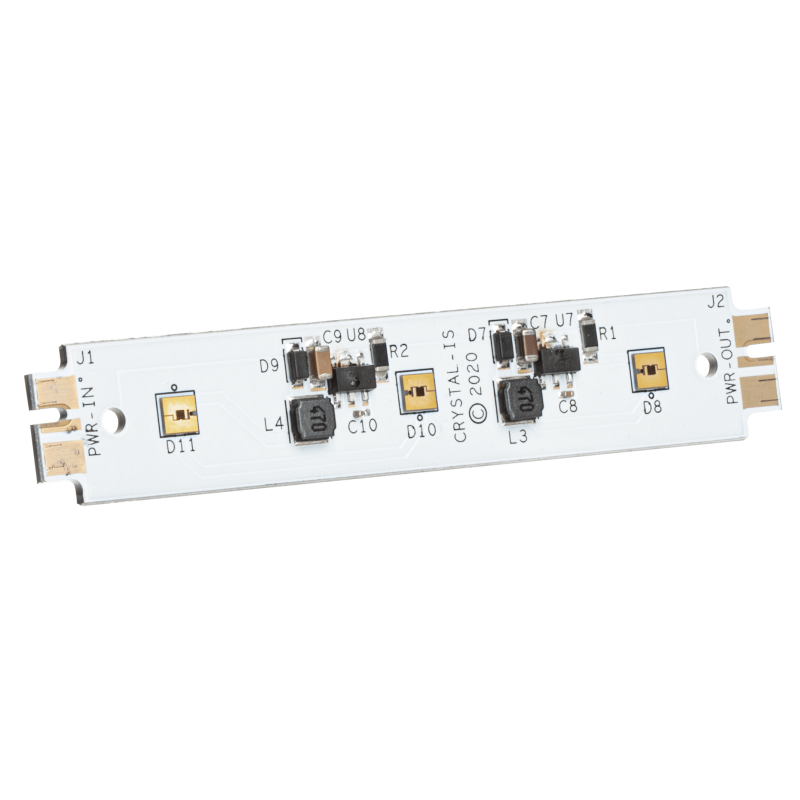  
KLARAN® PCB UVC LEDS
UVC LED module for surface and air treatment.
Available in 3 versions: 3, 9 or 12 LEDs.
For more information or special request project contact us.
Available in stock
Description
Klaran LE (Light Engine) is a UVC LED module built for applications that require surface or air treatment. The LE uses Klaran high-performance UVC LEDs which emit UV light in the germicidal range (260 nm to 270 nm) and can be integrated into a variety of applications.
Powerful Klaran UVC LED module
Klaran LE modules emit at peak germicidal wavelength 265 nm for increased performances and reliability.
Plug & Play for rapid integration
Ideal for rapid prototyping, microbial test validation, or simple product integration. The 9 LED Light Engine includes integrated 12V DC driver, direct connection to power supply with no additional components required.
Modular design
Klaran LE design can be multiplied as desired to fit different air or surface disinfection requirements and positioning constraints. No fragile quartz design allows for use in mobile applications.

Product Details
Produit

3 LED
9 LED
12 LED
Dimensions

80mm x 15mm
160mm x 12mm
250mm x 15mm

LED Drive Current

350mA
355mA
350mA

Driver

24Vdc
12Vdc
24Vdc

LED Output

50mW
50mW
50mW
Customers who bought this product also bought: